Honda CR-V: Maintenance Under the Hood / Brake Fluid
Specified fluid: Honda Heavy Duty Brake Fluid DOT 3
Checking the Brake Fluid
The fluid level should be between the MIN and MAX marks on the side of the reserve tank.
NOTICE
Brake fluid marked DOT 5 is not compatible with your vehicle's braking system and can cause extensive damage.
If the specified brake fluid is not available, you should use only DOT 3 or DOT 4 fluid from a sealed container as a temporary replacement.
Using any non-Honda brake fluid can cause corrosion and decrease the longevity of the system. Have the brake system flushed and refilled with Honda Heavy Duty Brake Fluid DOT 3 as soon as possible.
If the brake fluid level is at or below the MIN mark, have a dealer inspect the vehicle for leaks or worn brake pads as soon as possible.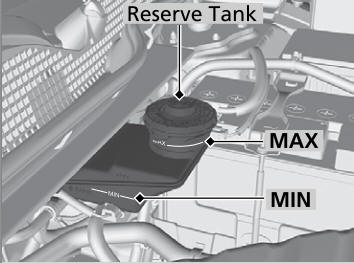 Categories
After adjusting a front seat to the proper position, and while sitting upright and well back in the seat:
Pull the seat belt out slowly.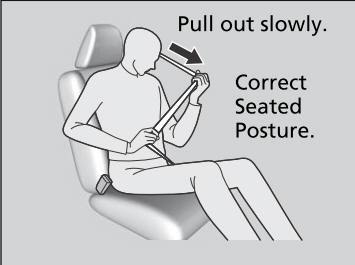 Insert the latch plate into the buckle, then tug on the belt to make sure the buckle is secure. Make sure that the belt is not twisted or caught on anything.