Honda CR-V: Audio System / About Your Audio System
The audio system features AM/FM radio and SiriusXM® Radio service * . It can also play USB flash drives, and iPod, iPhone and Bluetooth® devices.
You can operate the audio system from the buttons and switches on the panel, the remote controls on the steering wheel, or the icons on the touchscreen interface * .
SiriusXM® Radio * is available on a subscription basis only. For more information on SiriusXM® Radio * , contact a dealer.
SiriusXM® Radio * is available in the United States and Canada, except Hawaii, Alaska, and Puerto Rico.
SiriusXM®* is a registered trademark of SiriusXM Radio, Inc.
iPod, iPhone and iTunes are trademarks of Apple Inc.
State or local laws may prohibit the operation of handheld electronic devices while operating a vehicle.
* Not available on all models
The USB port (1.0A) is for playing audio files on a USB flash drive, connecting a cellular phone, and charging devices. Models with Display Audio The USB port (1...
Other information:
Store or secure all items on board properly. Carrying too much cargo, or improperly storing it, can affect your vehicle's handling, stability, stopping distance, and tires, and make it unsafe. Do not pile items higher than the seat height...
* Not available on all models When the system senses a loss of front wheel traction, it automatically transfers some power to the rear wheels. This allows you to utilize all available traction and may increase mobility. You still need to exercise the same care when accelerating, steering, and braking that you would in a two wheel drive vehicle...
Categories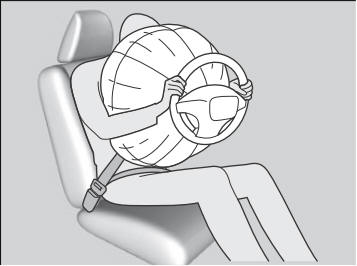 While your seat belt restrains your torso, the front airbag provides supplemental protection for your head and chest.
The front airbags deflate immediately so that they won't interfere with the driver's visibility or the ability to steer or operate other controls.