Honda CR-V: Front Airbags (SRS) / How the Front Airbags Work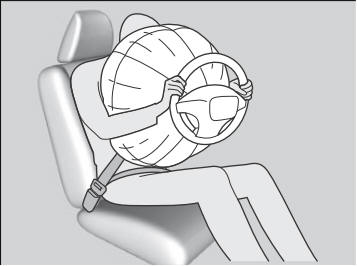 While your seat belt restrains your torso, the front airbag provides supplemental protection for your head and chest.
The front airbags deflate immediately so that they won't interfere with the driver's visibility or the ability to steer or operate other controls.
The total time for inflation and deflation is so fast that most occupants are not aware that the airbags deployed until they see them lying in front of them.
When front airbags should not deploy
Minor frontal crashes: Front airbags were designed to supplement seat belts and help save lives, not to prevent minor scrapes, or even broken bones that might occur during a less than moderate-to-severe frontal crash.
Side impacts: Front airbags can provide protection when a sudden deceleration causes a driver or front passenger to move toward the front of the vehicle. Side airbags and side curtain airbags have been specifically designed to help reduce the severity of injuries that can occur during a moderate-to-severe side impact which can cause the driver or passenger to move toward the side of the vehicle.
Rear impacts: Head restraints and seat belts are your best protection during a rear impact. Front airbags cannot provide any significant protection and are not designed to deploy in such collisions.
Rollovers: In a rollover, your best form of protection is a seatbelt or, if your vehicle is equipped with a rollover sensor, both a seatbelt and a side curtain airbag. Front airbags, however, are not designed to deploy in a rollover as they would provide little if any protection.
When front airbags deploy with little or no visible damage
Because the airbag system senses sudden deceleration, a strong impact to the vehicle framework or suspension might cause one or more of the airbags to deploy. Examples include running into a curb, the edge of a hole, or other low fixed object that causes a sudden deceleration in the vehicle chassis. Since the impact is underneath the vehicle, damage may not be readily apparent.
When front airbags may not deploy, even though exterior damage appears severe
Since crushable body parts absorb crash energy during an impact, the amount of visible damage does not always indicate proper airbag operation. In fact, some collisions can result in severe damage but no airbag deployment because the airbags would not have been needed or would not have provided protection even if they had deployed.