Honda CR-V: When Driving / To Set the Vehicle Speed

When driving at 25 mph (40 km/h) or above: Take your foot off the pedal and press the –/SET button when you reach the desired speed. The moment you release the button, the set speed is fixed, and ACC with Low Speed Follow begins.
When driving slower than 25 mph (40 km/h): If the vehicle is moving and the brake pedal is not depressed, pressing the button fixes the set speed to 25 mph (40 km/h) regardless of current vehicle speed. If your vehicle is stationary and a vehicle is detected ahead, your vehicle speed can be set, even with the brake pedal depressed.
You can switch the displayed set speed measurements on the driver information interface * or audio/information screen * between mph and km/h.
The indicators for the Adaptive Cruise Control (ACC) with Low Speed Follow, Road Departure Mitigation (RDM), Vehicle Stability Assist™ (VSA®) system, Vehicle Stability Assist™ (VSA®) OFF, low tire pressure/TPMS, Collision Mitigation Braking System™ (CMBS™ ), and Parking Brake and Brake System (Amber) may come on along with a message in the Driver Information Interface after reconnecting the battery. Drive a short distance at more than 12 mph (20 km/h). The indicator should go off. If it does not, have your vehicle checked by a dealer.
When ACC with Low Speed Follow starts operating, the vehicle icon, distance bars and set speed appear on the driver information interface.
When you use ACC with Low Speed Follow, Straight Driving Assist (a feature of the Electric Power Steering system) is activated. By enabling the steering system to automatically compensate for natural steering pull, Straight Driving Assist makes it easier for you to keep your vehicle in a straight line.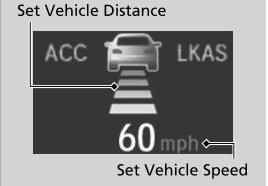 Categories
After adjusting a front seat to the proper position, and while sitting upright and well back in the seat:
Pull the seat belt out slowly.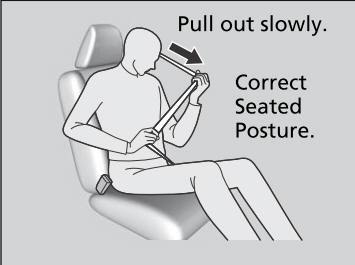 Insert the latch plate into the buckle, then tug on the belt to make sure the buckle is secure. Make sure that the belt is not twisted or caught on anything.