Honda CR-V: Controls / Adjusting the Mirrors
The steering wheel height and distance from your body can be adjusted so that you can comfortably grip the steering wheel in an appropriate driving posture...
Other information:
Fuel recommendation Unleaded gasoline, pump octane number 87 or higher Use of lower octane gasoline can cause a persistent, heavy metallic knocking noise that can lead to engine damage. Top tier detergent gasoline Because the level of detergency and additives in gasoline vary in the market, Honda endorses the use of "TOP TIER Detergent Gasoline" where available to help maintain the performance and reliability of your vehicle...
Replacing the Button Battery If the indicator does not come on when the button is pressed, replace the battery. WARNING CHEMICAL BURN HAZARD The battery that powers the remote transmitter can cause severe internal burns and can even lead to death if swallowed...
Categories
After adjusting a front seat to the proper position, and while sitting upright and well back in the seat:
Pull the seat belt out slowly.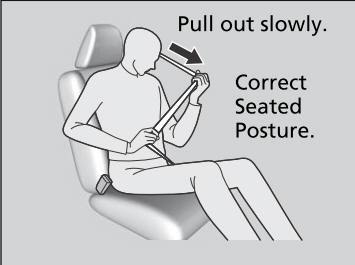 Insert the latch plate into the buckle, then tug on the belt to make sure the buckle is secure. Make sure that the belt is not twisted or caught on anything.
Copyright © 2023 www.hocrv.com