Honda CR-V: Operating the Switches Around the Steering Wheel / Ignition Switch*
* Not available on all models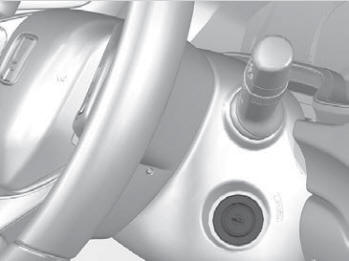 LOCK: Insert and remove the key in this position.

ACCESSORY: Operate the audio system and other accessories in this position.
ON: This is the position when driving.
START: This position is for starting the engine. The switch returns to ON

when you let go of the key.
You cannot take the key out unless the shift lever is in

.
If you open the driver's door when the key is in LOCK

or ACCESSORY

, a warning buzzer will sound to remind you to take the key out.
When this happens, the following messages appear on the driver information interface:
In LOCK

:

or the symbol with a Remove Key From Ignition
In ACCESSORY

: or the symbol with a Return Ignition Switch To Lock () Position
The buzzer will stop when you take the key out.
If the key won't turn from LOCK

to ACCESSORY
, turn the key while moving the steering wheel left and right. The steering wheel will unlock, allowing the key to turn.
Other information:
If driving on snowy or frozen roads, mount all season marked "M+S" tires, snow tires, or tire chains; reduce speed; and maintain sufficient distance between vehicles when driving. Be particularly careful when operating the steering wheel or brakes to prevent skidding...
When driving at 25 mph (40 km/h) or above: Take your foot off the pedal and press the –/SET button when you reach the desired speed. The moment you release the button, the set speed is fixed, and ACC with Low Speed Follow begins. When driving slower than 25 mph (40 km/h): If the vehicle is moving and the brake pedal is not depressed, pressing the button fixes the set speed to 25 mph (40 km/h) regardless of current vehicle speed...
Categories
The Driver Attention Monitor analyzes steering inputs to determine if the vehicle is being driven in a manner consistent with drowsy or inattentive driving. If it determines that the vehicle is being driven in such a manner, it will display the degree of the driver's attention in the Driver Information Interface.