Honda CR-V: Engine Coolant / Adding the Coolant
Make sure the engine and radiator are cool.
Turn the reserve tank cap 1/8 turn counterclockwise and relieve any pressure in the coolant system.
Push down and turn the reserve tank cap counter-clockwise to remove it.
Pour coolant into the reserve tank until it reaches the MAX mark.
Put the reserve tank cap back on, and tighten it fully.
все микрозаймы в россии список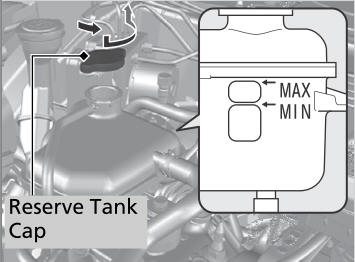 NOTICE
Pour the fluid slowly and carefully so you do not spill any. Clean up any spills immediately; they can damage components in the engine compartment.
Categories
The front sensor camera detects the light sources ahead of the vehicle such as the lights of a preceding or oncoming vehicle, or street lights. When you are driving at night, the system automatically switches the headlights between low beam and high beam depending on the situation.

Copyright © 2023 www.hocrv.com