Honda CR-V: Jump Starting / Jump Starting Procedure
Turn off the power to electric devices, such as the audio and lights. Turn off the engine, then open the hood.
Open the terminal cover on your vehicle's battery positive terminal.
Connect the first jumper cable to your vehicle's battery terminal.
Connect the other end of the first jumper cable to the booster battery terminal.

Use a 12-volt booster battery only.
When using an automotive battery charger to boost your 12-volt battery, select a lower charging voltage than 15-volts. Check the charger manual for the proper setting.

Connect the second jumper cable to the booster battery terminal.

Connect the other end of the second jumper cable to the engine mounting bolt (as shown). Do not connect this jumper cable to any other part.
If your vehicle is connected to another vehicle, start the assisting vehicle's engine and increase its rpm slightly.
Attempt to start your vehicle's engine. If it turns over slowly, check that the jumper cables have good metal-to-metal contact.
WARNING
A battery can explode if you do not follow the correct procedure, seriously injuring anyone nearby.
Keep all sparks, open flames, and smoking materials away from the battery.
Securely attach the jumper cables clips so that they do not come off when the engine vibrates. Also be careful not to tangle the jumper cables or allow the cable ends to touch each other while attaching or detaching the jumper cables.
Battery performance degrades in cold conditions and may prevent the engine from starting.
Once your vehicle's engine has started, remove the jumper cables in the following order: Disconnect the jumper cable from your vehicle's ground. Disconnect the other end of the jumper cable from the booster battery terminal...
Other information:
Press to display the iPod music list. Rotate to select a category. Press to display a list of items in the category. Rotate to select an item, then press . Press and rotate repeatedly until a desired item you want to listen is displayed...
*1: Models with navigation system Climate Control On Climate Control Off Fan Speed <1-7> Temperature max heat Temperature max cool Temperature <57-87> degrees (U.S.) Temperature <18-32> degrees (Canada) Defrost On Defrost Off Air conditioner On Air conditioner Off More Vent Dash and floor Floor vents Floor and Defrost Climate Control Automatic Fan Speed up/down Temperature up Temperature down NOTE: These commands toggle the function on and off, so the command may not match your intended action...
Categories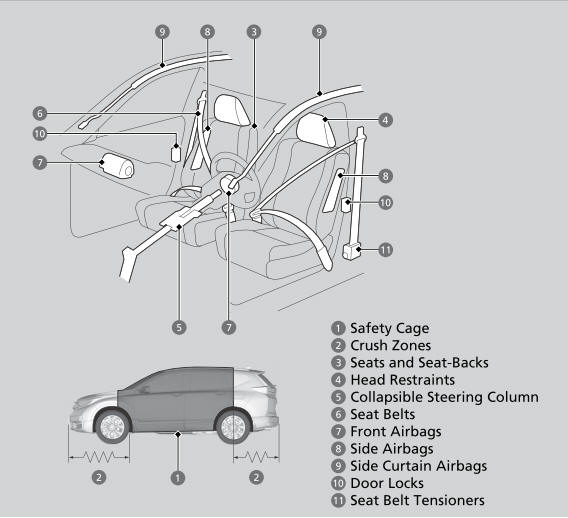 The following checklist will help you take an active role in protecting yourself and your passengers.
Your vehicle is equipped with many features that work together to help protect you and your passengers during a crash.