Honda CR-V: Airbags / Airbag Care
You do not need to, and should not, perform any maintenance on or replace any airbag system components yourself. However, you should have your vehicle inspected by a dealer in the following situations:
When the airbags have deployed
If an airbag has inflated, the control unit and other related parts must be replaced. Similarly, once an automatic seat belt tensioner has been activated, it must be replaced.
When the vehicle has been in a moderate-to-severe collision
Even if the airbags did not inflate, have your dealer inspect the following: the driver's seat position sensor, weight sensors in the passenger's seat, front seat belt tensioners, and each seat belt that was worn during the crash.
Do not remove or modify a front seat without consulting a dealer
This would likely disable or affect the proper operation of the driver's seat position sensor or the weight sensors in the passenger's seat. If it is necessary to remove or modify a front seat to accommodate a person with disabilities, contact a Honda dealer, or for U.S. vehicles, American Honda Automobile Customer Service at 1-800-999-1009 and for Canadian vehicles, Honda Canada Customer Relations at 1-888-9-HONDA-9.
We recommend against the use of salvaged airbag system components, including the airbag, tensioners, sensors, and control unit.
When the passenger airbag off indicator comes on The indicator comes on to alert you that the passenger's front airbag has been turned off. This occurs when the weight sensors detect about 65 lbs (29 kg) or less, the weight of an infant or small child, on the seat...
Other information:
You can switch on and off the system using the audio/information screen. Select . Select Settings. Select Camera. Select Cross Traffic Monitor. Select On or Off, then select OK. The system can also be turned on and off on the audio/information screen by pressing the CTM icon...
*: Canadian models only, if equipped The power mode must be in ON to use the heated steering wheel. Press the button on the right side of the steering wheel. When a comfortable temperature is reached, press the button again to turn it off. The heated steering wheel is turned off every time you start the engine, even if you turned it on the last time you drove the vehicle...
Categories
After adjusting a front seat to the proper position, and while sitting upright and well back in the seat:
Pull the seat belt out slowly.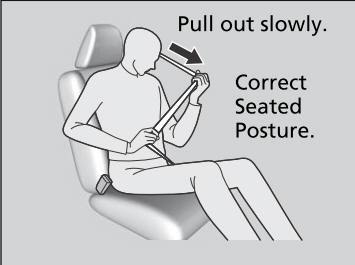 Insert the latch plate into the buckle, then tug on the belt to make sure the buckle is secure. Make sure that the belt is not twisted or caught on anything.