Honda CR-V: Compass* / Compass Zone Selection
Turn the ignition switch to ON .
Press and hold the (day/night) button until the display shows the compass setting menu.
Rotate to select Zone, then press . The display shows the current zone number.
Rotate to select the zone number of your area (See Zone Map), then press .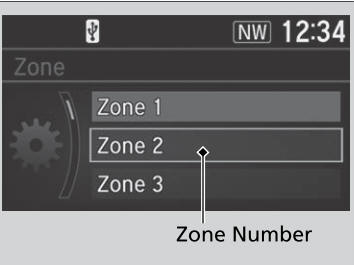 The zone selection is done to compensate the variation between magnetic north and true north. If the calibration starts while the audio system is in use, the display returns to normal after the calibration is completed.
If the compass indicates the wrong direction, or the CAL indicator blinks, you need to manually calibrate the system. Turn the ignition switch to ON ...
Other information:
The audio/information screen notifies you when there is an incoming call. The information that appears on the audio/information screen varies between phone models. Limitations for Manual Operation Certain manual functions are disabled or inoperable while the vehicle is in motion...
How to Handle Overheating Overheating symptoms are as follows: The temperature gauge needle is at the mark or the engine suddenly loses power. Stop Driving When Safe. Engine Temperature Too Hot message appears on the driver information interface...
Categories
The front sensor camera detects the light sources ahead of the vehicle such as the lights of a preceding or oncoming vehicle, or street lights. When you are driving at night, the system automatically switches the headlights between low beam and high beam depending on the situation.

Copyright © 2022 www.hocrv.com