Honda CR-V: Compass* / Compass Zone Selection
Turn the ignition switch to ON .
Press and hold the (day/night) button until the display shows the compass setting menu.
Rotate to select Zone, then press . The display shows the current zone number.
Rotate to select the zone number of your area (See Zone Map), then press .
все микрозаймы на карту онлайн список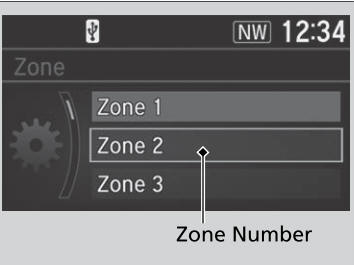 The zone selection is done to compensate the variation between magnetic north and true north. If the calibration starts while the audio system is in use, the display returns to normal after the calibration is completed.
If the compass indicates the wrong direction, or the CAL indicator blinks, you need to manually calibrate the system. Turn the ignition switch to ON ...
Other information:
Seat belts are the single most effective safety device because they keep you connected to the vehicle so that you can take advantage of many built-in safety features. They also help keep you from being thrown against the inside of the vehicle, against any passengers, or out of the vehicle...
About Your Multi-View Rear Camera The audio/information screen can display your vehicle's rear view. The display automatically changes to a rear view when the shift lever is moved to . The rear camera view is restricted. You cannot see the corner ends of the bumper or what is underneath the bumper...
Categories
The front sensor camera detects the light sources ahead of the vehicle such as the lights of a preceding or oncoming vehicle, or street lights. When you are driving at night, the system automatically switches the headlights between low beam and high beam depending on the situation.

Copyright © 2023 www.hocrv.com