Honda CR-V: Compass* / Compass Zone Selection
Turn the ignition switch to ON .
Press and hold the (day/night) button until the display shows the compass setting menu.
Rotate to select Zone, then press . The display shows the current zone number.
Rotate to select the zone number of your area (See Zone Map), then press .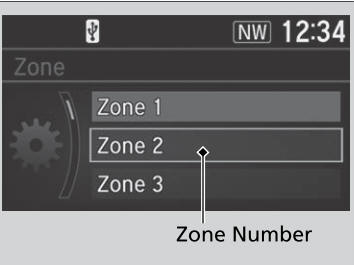 The zone selection is done to compensate the variation between magnetic north and true north. If the calibration starts while the audio system is in use, the display returns to normal after the calibration is completed.
If the compass indicates the wrong direction, or the CAL indicator blinks, you need to manually calibrate the system. Turn the ignition switch to ON ...
Other information:
Reasons for the indicator to come on The brake fluid is low. There is a malfunction in the brake system. What to do when the indicator comes on while driving Depress the brake pedal lightly to check pedal pressure. If normal, check the brake fluid level the next time you stop...
You can make calls by inputting any phone number, or by using the imported phonebook, call history, speed dial entries, or redial. Any voice-tagged speed dial entry can be dialed by voice from most screens. Press the button and say the voice tag name...
Categories
The front sensor camera detects the light sources ahead of the vehicle such as the lights of a preceding or oncoming vehicle, or street lights. When you are driving at night, the system automatically switches the headlights between low beam and high beam depending on the situation.

Copyright © 2023 www.hocrv.com