Honda CR-V: When Driving / Auto Idle Stop
To help maximize fuel economy, the engine automatically stops when the vehicle comes to a stop, depending on environmental and vehicle operating conditions. The indicator (green) comes on at this time.
The engine then restarts once the vehicle is about to move again, and the indicator (green) goes off.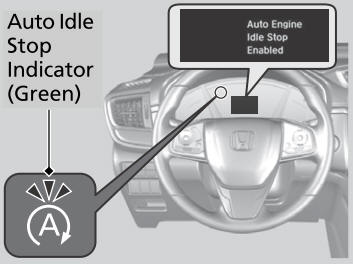 The environmental and vehicle conditions that impact Auto Idle Stop system operation are varied.
If the driver's door is opened while the indicator (green) comes on, a buzzer sounds to notify you that the Auto Idle Stop function is in operation.
A message associated with Auto Idle Stop appears on the driver information interface * or the audio/information screen * .
The 12-volt battery installed in this vehicle is specifically designed for a model with Auto Idle Stop. Using a 12-volt battery other than this specified type may shorten the 12-volt battery life, and prevent Auto Idle Stop from activating. If you need to replace the 12-volt battery, make sure to select the specified type. Ask a dealer for more details.
The duration of the Auto Idle Stop operation:
Increase in the ECON mode, compared to when the ECON mode is off, with climate control in use.
Categories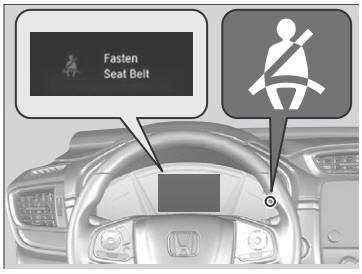 The seat belt system includes an indicator on the instrument panel to remind the driver or a front passenger or both to fasten their seat belts.
If the ignition switch is turned to ON

*1 and a seat belt is not fastened, a beeper will sound and the indicator will blink. After a few seconds, the beeper will stop and the indicator will come on and remain illuminated until the seat belt is fastened.