Honda CR-V: Collision Mitigation Braking System™ (CMBS™ ) / Collision Alert Stages
The system has three alert stages for a possible collision. However, depending on circumstances, the CMBS™ may not go through all of the stages before initiating the last stage.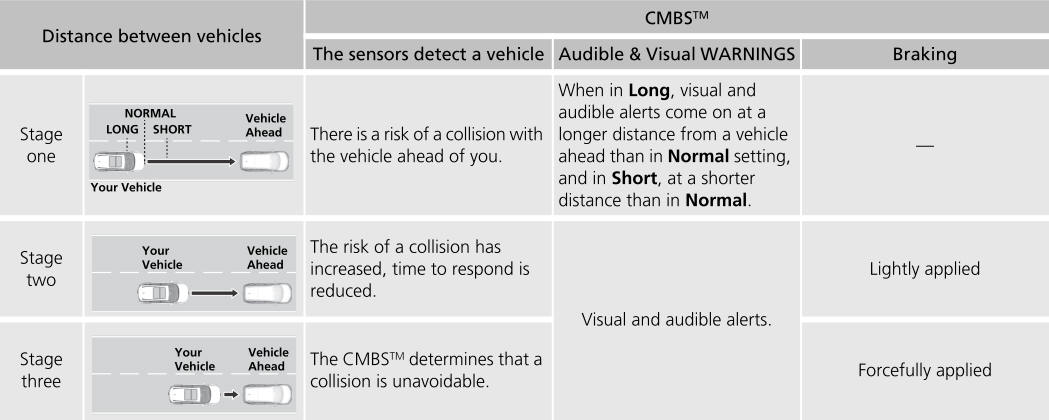 CMBS™ On and Off
Press and hold the button until the beeper sounds to switch the system on or off. When the CMBS™ is off:
The CMBS™ indicator in the instrument panel comes on.
A message on the driver information interface reminds you that the system is off.
The CMBS™ is turned on every time you start the engine, even if you turned it off the last time you drove the vehicle.
The CMBS™ may automatically shut off, and the CMBS™ indicator will come and stay on under certain conditions.
When the CMBS™ is activated, it will continue to operate even if the accelerator pedal is partially depressed. However, it will be canceled if the accelerator pedal is deeply depressed.
The indicators for the Adaptive Cruise Control (ACC) with Low Speed Follow, Road Departure Mitigation (RDM), Vehicle Stability Assist™ (VSA®) system, Vehicle Stability Assist™ (VSA®) OFF, low tire pressure/TPMS, Collision Mitigation Braking System™ (CMBS™ ), and Parking Brake and Brake System (Amber) may come on along with a message in the Driver Information Interface after reconnecting the battery. Drive a short distance at more than 12 mph (20 km/h). The indicator should go off. If it does not, have your vehicle checked by a dealer.
Can assist you when there is a possibility of your vehicle colliding with a vehicle or a pedestrian detected in front of yours. The CMBS™ is designed to alert you when a potential collision is determined, as well as to reduce your vehicle speed to help minimize collision severity when a collision is deemed unavoidable...
The CMBS™ may activate even when you are aware of a vehicle ahead of you, or when there is no vehicle ahead. Some examples of this are: When Passing Your vehicle approaches another vehicle ahead of you and you change lanes to pass...
Other information:
* Not available on all models The power mode must be in ON to use the seat heaters. Press the seat heater button: Once - The HI setting (three indicators on) Twice - The MID setting (two indicators on) Three times - The LO setting (one indicator on) Four times - The OFF setting (no indicators on) When the power mode is turn on after it is turned off, the previous setting of seat heaters is maintained...
I..
Categories
If the smart entry remote battery or the vehicle battery is dead, use the key instead of the smart entry remote.
Fully insert the key and turn it.