Honda CR-V: Indicator, Coming On/Blinking / If the Low Tire Pressure/TPMS Indicator Comes On or Blinks

Reasons for the indicator to come on or blink
A tire pressure is significantly low, or the TPMS has not been calibrated. If there is a problem with the TPMS or the compact spare tire is installed, the indicator blinks for about one minute, and then stays on.
What to do when the indicator comes on
Drive carefully avoiding abrupt cornering and hard braking. Stop your vehicle in a safe place. Check the tire pressure and adjust the pressure to the specified level. The specified tire pressure is on a label on the driver side doorjamb.
Calibrate the TPMS after the tire pressure is adjusted.
What to do when the indicator blinks, then remains on
Have the tire inspected by a dealer as soon as possible. If the compact spare tire causes the indicator to blink, change the tire to a full-size tire. The indicator will go off after driving for a few miles (kilometers). u Calibrate the TPMS after a full-size tire is reinstalled.
NOTICE
Driving on an extremely underinflated tire can cause it to overheat. An overheated tire can fail. Always inflate your tires to the prescribed level.
Reasons for the indicator to come on Comes on when there is a problem with the EPS system. If you depress the accelerator pedal repeatedly to increase the engine speed while the engine is idling, the indicator comes on, and sometimes the steering wheel becomes harder to operate...
Other information:
If you cannot open the tailgate, use the following procedure: Use a flat-tip screwdriver and remove the cover on the inside of the tailgate. Wrap the flat-tip screwdriver with a cloth to prevent scratches. To open the tailgate, push the tailgate while pushing the lever to the right using a flat-tip screw driver...
To open the sunglasses holder, press and release the indent. To close, press it again until it latches. You can store eyeglasses and other small items in this holder. Keep the holder closed while driving except when accessing stored items. Conversation mirror The sunglasses holder comes with a mirror...
Categories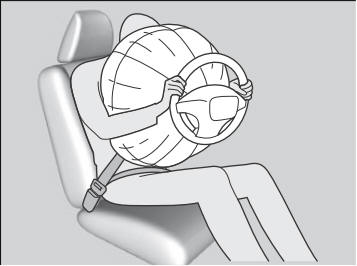 While your seat belt restrains your torso, the front airbag provides supplemental protection for your head and chest.
The front airbags deflate immediately so that they won't interfere with the driver's visibility or the ability to steer or operate other controls.