Honda CR-V: Security System / Immobilizer System
The immobilizer system prevents a key that has not been pre-registered from starting the engine. Each key contains electronic transmitters that use electronic signals to verify the key.
Pay attention to the following when inserting the key into the ignition switch * or pressing the ENGINE START/STOP button * :
Do not allow objects that emit strong radio waves near the ignition switch * or the ENGINE START/STOP button * .
Make sure the key is not covered by or touching a metal object.
Do not bring a key from another vehicle's immobilizer system near the ignition switch * or the ENGINE START/STOP button * .
* Not available on all models
Leaving the key in the vehicle can result in theft or accidental movement of the vehicle.
Always take the key with you whenever you leave the vehicle unattended.
Do not alter the system or add other devices to it.
Doing so may damage the system and make your vehicle inoperable.
Canadian models only: Apply and hold the brake pedal before turning the vehicle on the first time after the battery has been disconnected.
* Not available on all models The security system alarm activates when the tailgate, hood or doors are forcibly opened. The alarm does not go off if the tailgate or doors are opened with the key, remote transmitter or smart entry system...
Other information:
Make sure that your phone is paired and connected to the system. Select the Bluetooth® Audio mode. If the phone is not recognized, another HFL-compatible phone, which is not compatible for Bluetooth® Audio, may already be connected. To pause or resume a file Select the play icon or pause icon...
The life of your tires is dependent on many factors, including driving habits, road conditions, vehicle loading, inflation pressure, maintenance history, speed, and environmental conditions (even when the tires are not in use). In addition to regular inspections and inflation pressure maintenance, it is recommended that you have annual inspections performed once the tires reach five years old...
Categories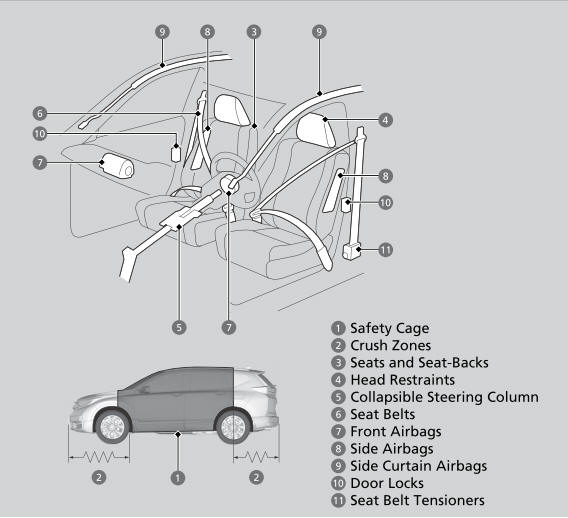 The following checklist will help you take an active role in protecting yourself and your passengers.
Your vehicle is equipped with many features that work together to help protect you and your passengers during a crash.