Honda CR-V: Security System / Immobilizer System
The immobilizer system prevents a key that has not been pre-registered from starting the engine. Each key contains electronic transmitters that use electronic signals to verify the key.
Pay attention to the following when inserting the key into the ignition switch * or pressing the ENGINE START/STOP button * :
Do not allow objects that emit strong radio waves near the ignition switch * or the ENGINE START/STOP button * .
Make sure the key is not covered by or touching a metal object.
Do not bring a key from another vehicle's immobilizer system near the ignition switch * or the ENGINE START/STOP button * .
* Not available on all models
Leaving the key in the vehicle can result in theft or accidental movement of the vehicle.
Always take the key with you whenever you leave the vehicle unattended.
Do not alter the system or add other devices to it.
Doing so may damage the system and make your vehicle inoperable.
Canadian models only: Apply and hold the brake pedal before turning the vehicle on the first time after the battery has been disconnected.
* Not available on all models The security system alarm activates when the tailgate, hood or doors are forcibly opened. The alarm does not go off if the tailgate or doors are opened with the key, remote transmitter or smart entry system...
Other information:
Can assist you when there is a possibility of your vehicle colliding with a vehicle or a pedestrian detected in front of yours. The CMBS™ is designed to alert you when a potential collision is determined, as well as to reduce your vehicle speed to help minimize collision severity when a collision is deemed unavoidable...
For your safety, perform all listed inspections and maintenance to keep your vehicle in good condition. If you become aware of any abnormality (noise, smell, insufficient brake fluid, oil residue on the ground, etc.), have your vehicle inspected by a dealer...
Categories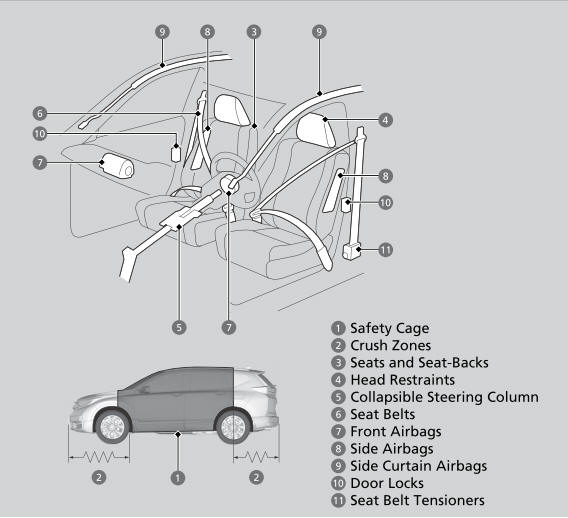 The following checklist will help you take an active role in protecting yourself and your passengers.
Your vehicle is equipped with many features that work together to help protect you and your passengers during a crash.