Honda CR-V: Maintenance Under the Hood / Maintenance Items Under the Hood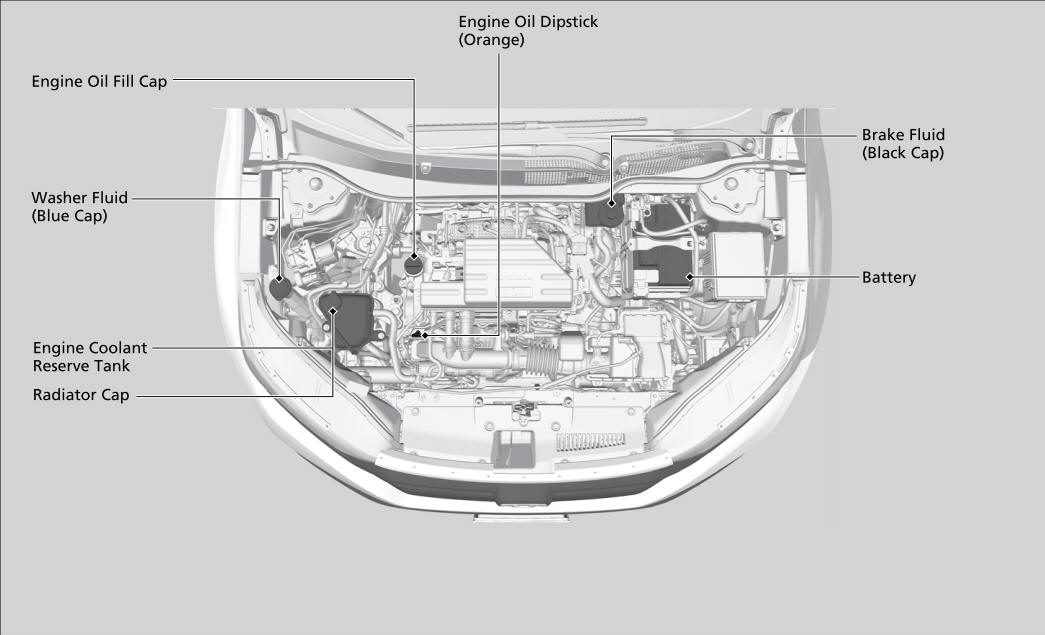 Opening the Hood
Park the vehicle on a level surface, and set the parking brake.
Pull the hood release handle under the lower left corner of the dashboard.

The hood will pop up slightly.

Push the hood latch lever (located under the front edge of the hood to the center) to the side and raise the hood. Once you have raised the hood slightly, you can release the lever.

Remove the support rod from the clamp using the grip. Mount the support rod in the hood.
When closing, remove the support rod, and stow it in the clamp, then gently lower the hood. Remove your hand at a height of approximately 12 inches (30 cm) and let the hood close.
WARNING
The hood support rod can become very hot due to heat from the engine. To ensure against possible burns, do not handle the metal section of the rod: Use the foam grip instead.
NOTICE
Do not open the hood when the wiper arms are raised. The hood will strike the wipers, resulting in damage to the hood and/or the wipers.
When closing the hood, check that the hood is securely latched.
If the hood latch lever moves stiffly, or if you can open the hood without lifting the lever, the latch mechanism should be cleaned and lubricated.
Do not open the hood while the Auto Idle Stop function is activated.
Honda Genuine Motor Oil Premium-grade 0W-20 detergent oil with an API Certification Seal on the container. Oil is a major contributor to your engine's performance and longevity...
Other information:
If the vehicle ahead of you slows down abruptly, or if another vehicle cuts in front of you, the beeper sounds, a message appears on the driver information interface. Depress the brake pedal, and keep an appropriate distance from the vehicle ahead...
You can select repeat and shuffle modes when playing a song. Available mode icons appear above the play mode buttons. Press the button corresponding to the mode you want to select. To turn off a play mode Press the selected button. Play Mode Menu Items Shuffle Albums: Plays all available albums in a selected category (playlists, artists, albums, songs, genres, or podcasts, audiobooks, and composers) in random order...
Categories
To open the sunglasses holder, press and release the indent. To close, press it again until it latches.
You can store eyeglasses and other small items in this holder.