Honda CR-V: Indicator, Coming On/Blinking / If the Malfunction Indicator Lamp Comes On or Blinks

Reasons for the indicator lamp to come on or blink
Comes on when there is a problem with the engine emissions control system.
Blinks when engine misfiring is detected.
What to do when the indicator lamp comes on
Avoid high speeds and immediately get your vehicle inspected at a dealer.
What to do when the indicator lamp blinks
Park the vehicle in a safe place with no flammable items and wait at least 10 minutes or more with the engine stopped until it cools.
NOTICE
If you drive with the malfunction indicator lamp on, the emissions control system and the engine could be damaged.
If the malfunction indicator lamp blinks again when restarting the engine, drive to the nearest dealer at 31 mph (50 km/h) or less. Have your vehicle inspected.
Categories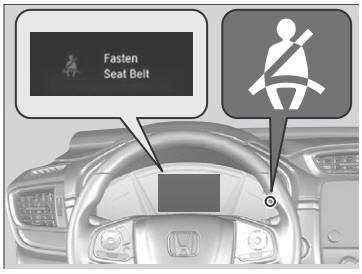 The seat belt system includes an indicator on the instrument panel to remind the driver or a front passenger or both to fasten their seat belts.
If the ignition switch is turned to ON

*1 and a seat belt is not fastened, a beeper will sound and the indicator will blink. After a few seconds, the beeper will stop and the indicator will come on and remain illuminated until the seat belt is fastened.