Honda CR-V: Adjusting the Seats / Rear Seats
Adjusting the Seat Positions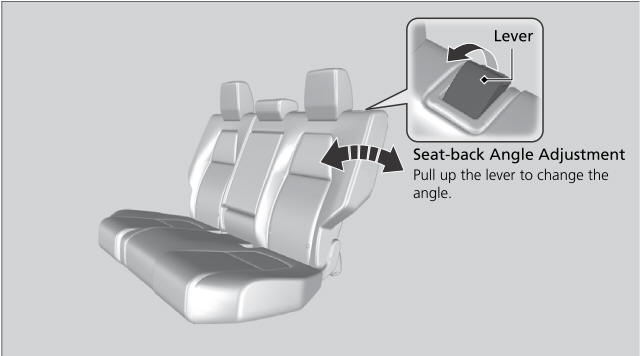 Once a seat is adjusted correctly, rock it back and forth to make sure it is locked in position.
Folding Down the Rear Seats
Store the center seat belt first. Insert the latch plate into the slot on the side of the anchor buckle.
Retract the seat belt into the holder on the ceiling.
Lower the rear seat head restraint to its lowest position. Put the armrest back into the seat-back.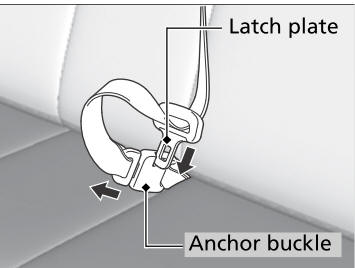 The rear seat-backs can be folded down to accommodate bulkier items in the cargo area.
Remove any items from the rear seat cushion and floor before you fold down the rear seat.
Never drive with the seat-back folded down and the tailgate open.
When returning the seat-back to its original position, push it firmly back. Also, make sure all rear shoulder belts are positioned in front of the seat-back.
Make sure all items in the cargo area or items extending through the opening into the rear seats are properly secured. Loose items can fly forward if you have to brake hard.
From the rear seat side
Pull the release lever and fold down the seat.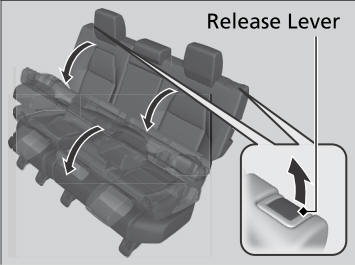 From the cargo area side
Pull the release lever and fold down the seat.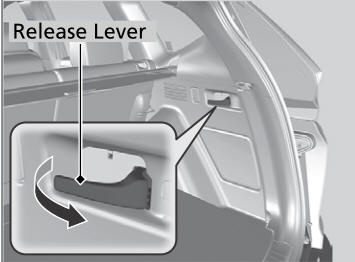 Make sure that the folded seat-back does not press against the front passenger seat, as this can cause the weight sensors in the front passenger seat to work improperly.
Make sure the seat-back, head restraints and seat cushion are securely latched back into place before driving.
Categories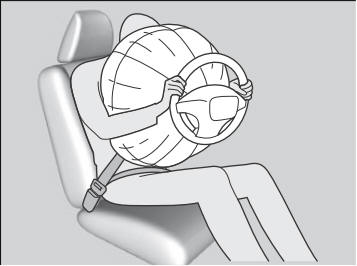 While your seat belt restrains your torso, the front airbag provides supplemental protection for your head and chest.
The front airbags deflate immediately so that they won't interfere with the driver's visibility or the ability to steer or operate other controls.