Honda CR-V: Airbags / Types of Airbags
Your vehicle is equipped with three types of airbags:
Front airbags: Airbags in front of the driver's and front passenger's seats.
Side airbags: Airbags in the driver's and front passenger's seat-backs.
Side curtain airbags: Airbags above the side windows.
Each is discussed in the following pages.
The airbags can inflate whenever the ignition switch is in ON

*1.
*1: Models with the smart entry system have an ENGINE START/STOP button instead of an ignition switch.
After an airbag inflates in a crash, you may see a small amount of smoke. This is from the combustion process of the inflator material and is not harmful. People with respiratory problems may experience some temporary discomfort. If this occurs, get out of the vehicle as soon as it is safe to do so.
Categories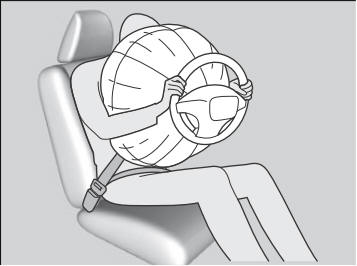 While your seat belt restrains your torso, the front airbag provides supplemental protection for your head and chest.
The front airbags deflate immediately so that they won't interfere with the driver's visibility or the ability to steer or operate other controls.