Honda CR-V: Interior Rearview Mirror / Automatic Dimming Rearview Mirror*
* Not available on all models
When driving after dark, the automatic dimming rearview mirror reduces the glare from headlights behind you. This feature is always active.
The auto dimming function cancels when the shift position is in

.
Categories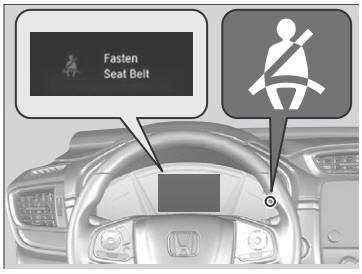 The seat belt system includes an indicator on the instrument panel to remind the driver or a front passenger or both to fasten their seat belts.
If the ignition switch is turned to ON

*1 and a seat belt is not fastened, a beeper will sound and the indicator will blink. After a few seconds, the beeper will stop and the indicator will come on and remain illuminated until the seat belt is fastened.
Copyright © 2023 www.hocrv.com