Honda CR-V: When Driving / Precautions While Driving
NOTICE
Do not operate the shift lever while pressing the accelerator pedal. You could damage the transmission.
NOTICE
If you repeatedly turn the steering wheel at an extremely low speed, or hold the steering wheel in the full left or right position for a while, the electric power steering (EPS) system heats up. The system goes into a protective mode, and limits its performance. The steering wheel becomes harder and harder to operate. Once the system cools down, the EPS system is restored.
Repeated operation under these conditions can eventually damage the system.
If the ignition switch is turned to ACCESSORY

*1 while driving, the engine will shut down and all steering and brake power assist functions will stop, making it difficult to control the vehicle.
Do not put the shift lever in

, as you will lose engine braking (and acceleration) performance. During the first 600 miles (1,000 km) of operation, avoid sudden acceleration or full throttle operation so as to not damage the engine or powertrain.
Avoid hard braking for the first 200 miles (300 km). You should also follow this when the brake pads are replaced.
*1: Models with the smart entry system have an ENGINE START/STOP button instead of an ignition switch.
Driving Guidelines for Your Utility Vehicle
Utility vehicles have a significantly higher rollover rate than other types of vehicles. To prevent rollovers or loss of control:
Take corners at slower speeds than you would with a passenger vehicle.
Avoid sharp turns and abrupt maneuvers whenever possible.
Do not modify your vehicle in any way that you would raise the center of gravity.
Roof load capacity is 165 lbs (75 kg), available roof racks/carriers may have lower capacities. Please check accessory's information (Honda accessory).
Failure to operate your vehicle correctly might result in a crash or a rollover.
In Rain
Avoid driving in deep water and on flooded roads. This can damage the engine or driveline, or cause electrical component failure.
Other Precautions
If there is a strong impact with something under the vehicle, stop in a safe location. Check the underside of the vehicle for damage or any fluid leaks.
Categories
After adjusting a front seat to the proper position, and while sitting upright and well back in the seat:
Pull the seat belt out slowly.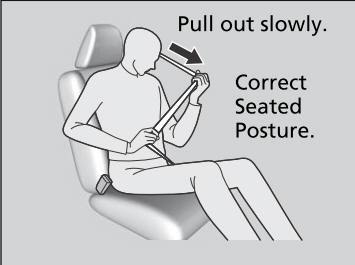 Insert the latch plate into the buckle, then tug on the belt to make sure the buckle is secure. Make sure that the belt is not twisted or caught on anything.