Honda CR-V: Airbag System Indicators / Supplemental Restraint System (SRS) Indicator
When the ignition switch is turned to ON

*1
*1: Models with the smart entry system have an ENGINE START/STOP button instead of an ignition switch.
The indicator comes on for a few seconds, then goes off. This tells you the system is working properly.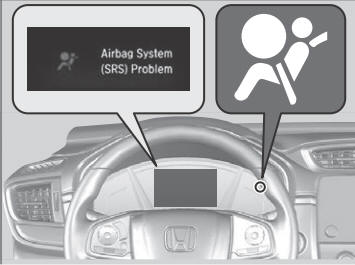 If the indicator comes on at any other time, or does not come on at all, have the system checked by a dealer as soon as possible. If you don't, your airbags and seat belt tensioners may not work properly when they are needed.
WARNING
Ignoring the SRS indicator can result in serious injury or death if the airbag systems or tensioners do not work properly.
Have your vehicle checked by a dealer as soon as possible if the SRS indicator alerts you to a possible problem.
When the passenger airbag off indicator comes on The indicator comes on to alert you that the passenger's front airbag has been turned off. This occurs when the weight sensors detect about 65 lbs (29 kg) or less, the weight of an infant or small child, on the seat...
Other information:
Each radio frequency device installed in the vehicle conforms to the requirements and standards of the regulation listed below: As required by the FCC: This device complies with Part 15 of the FCC rules. Operation is subject to the following two conditions: (1) This device may not cause harmful interference, and (2) this device must accept any interference received, including interference that may cause undesired operation...
The audio system is disabled when it is disconnected from the power source, such as when the battery is disconnected or goes dead. In certain conditions, the system may display a code entry screen. If this occurs, reactivate the audio system. Reactivating the audio system Turn the ignition switch to ON *1 ...
Categories
The front sensor camera detects the light sources ahead of the vehicle such as the lights of a preceding or oncoming vehicle, or street lights. When you are driving at night, the system automatically switches the headlights between low beam and high beam depending on the situation.