Honda CR-V: Precautions for Opening/Closing the Tailgate / Using the Hands Free Access*
* Not available on all models
Use a forward and back kicking motion under the center of the rear bumper to open or close the power tailgate while carrying the smart entry remote.
Some exterior lights flash twice and a beeper sounds once, then the tailgate begins to move.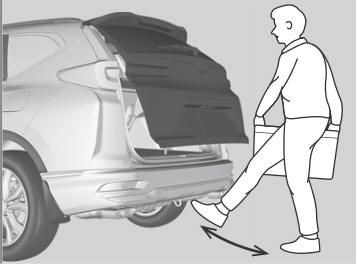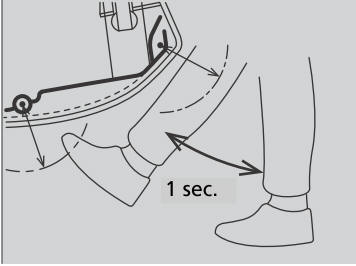 During rain or in other instances when the vehicle becomes wet, the sensor may not properly detect your foot motion.
When performing work on or around the rear section of the vehicle, you may inadvertently open or close the tailgate.
To prevent this from happening, select Customized Features on the audio/information screen and then select OFF for the feature.
If you hold your foot under the bumper for too long, the power tailgate does not open or close.
This function will not operate if you don't have the smart entry remote on you. Please make sure you have the smart entry remote on you.
The duration of the kicking motion should be approximately one second.
Categories
If the smart entry remote battery or the vehicle battery is dead, use the key instead of the smart entry remote.
Fully insert the key and turn it.