Honda CR-V: Precautions for Opening/Closing the Tailgate / Using the Remote Transmitter
Press the power tailgate button for more than one second to operate when the power mode is in VEHICLE OFF (LOCK).
Some exterior lights flash and the beeper sounds.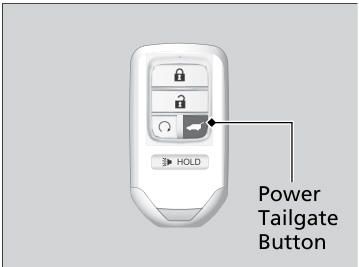 If you press the button again while the power tailgate is moving, it will stop.
Press the button for more than one second, and the power tailgate will reverse direction.
Customizing when to open the tailgate
Anytime: The power tailgate unlocks and opens at the same time. This is the default setting.
When Unlocked: The tailgate opens when all doors are unlocked.
If you close the power tailgate when all the doors are locked, the power tailgate locks automatically.
If you replace the battery or the power tailgate fuse while the tailgate is open, the power tailgate may be disabled. The power tailgate resumes once you manually close the tailgate.
Installing aftermarket components other than genuine Honda accessories on the power tailgate may prevent it from fully opening or closing.
Make sure the power tailgate is fully open before you get your cargo in and out.
Make sure the power tailgate is fully closed before you start the vehicle.
The beeper sounds when you start driving while the power tailgate is still open, or closing.
Categories
The airbags have advanced features to help reduce the likelihood of airbag related injuries to smaller occupants.
The driver's advanced airbag system includes a seat position sensor.