Honda CR-V: Interior Lights/Interior Convenience Items / Heated Steering Wheel *
*: Canadian models only, if equipped
The power mode must be in ON to use the heated steering wheel.
Press the button on the right side of the steering wheel.
When a comfortable temperature is reached, press the button again to turn it off.
The heated steering wheel is turned off every time you start the engine, even if you turned it on the last time you drove the vehicle.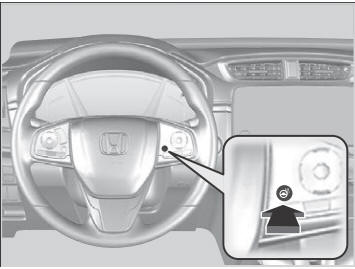 Do not use the heated steering wheel continuously when the engine is off. Under such conditions, the battery may be weakened, making the engine difficult to start.
Categories
If the smart entry remote battery or the vehicle battery is dead, use the key instead of the smart entry remote.
Fully insert the key and turn it.