Honda CR-V: HFL Menus / In Case of Emergency*
* Not available on all models
Your vehicle may not be able to connect to the operator if the battery level is low, the line is disconnected, or you do not have adequate cellular coverage.
You cannot use this emergency service when:
You travel outside the HondaLink service coverage areas.
There is a problem with the connecting devices, such as the microphones, speakers, or the unit itself.
You cannot operate other phone-related functions using the screen while talking to the operator. Select Hang Up to terminate the connection to your vehicle.
Automatic collision notification
If your vehicle's airbags deploy or if the unit detects that the vehicle is severely impacted, your vehicle automatically will attempt to connect to the HondaLink operator. If connected, information about your vehicle, its location, and its condition can be sent to the operator *1 ; you also can speak to the operator when connected.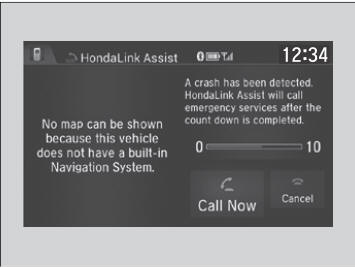 IMPORTANT: For vehicles equipped with HondaLink Assist, owner activation constitutes authorization for Honda to collect information from your vehicle needed to provide the service, and agreement to the Terms of Use at www.hondalink.com/TermsAndConditions. In a crash, HondaLink Assist will attempt to notify emergency services but NEITHER Honda-PRO NOR ITS SERVICE PROVIDERS GUARANTEE THAT SUCH NOTIFICATION WILL OCCUR.
Honda reserves the right to terminate HondaLink Assist services at any time or for any reason, and in the future may not be able to provide services due to changes in, or obsolescence of, technology integral to the service or changes in governmental regulation.
*1: Depending on your phone and adequate cellular coverage, your vehicle's location may not be sent to the operator.
To enable notification
Go to the Phone Settings screen.
Select the Phone tab, then HondaLink Assist.

A pop-up menu appears on the screen.

Select On or Off.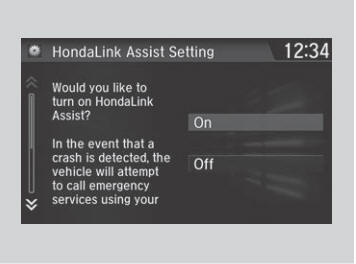 Setting options:
On: Notification is available.
Off: Disable the feature.
Displaying text messages Go to the Phone Menu screen. Select Text/Email. Select account if necessary. Select a message. The text message is displayed...
Other information:
The front airbags are housed in the center of the steering wheel for the driver, and in the dashboard for the front passenger. Both airbags are marked SRS AIRBAG. During a frontal crash severe enough to cause one or both front airbags to deploy, the airbags can inflate at different rates, depending on the severity of the crash, whether or not the seat belts are latched, and/ or other factors...
If the brake system indicator (red) comes on or blinks at the same time when the brake system indicator (amber) comes on, release the parking brake manually or automatically. If the brake system indicator (red) continuously comes on or blinks at the same time when the brake system indicator (amber) comes on, stop the vehicle in a safe place and have it inspected by a dealer immediately...