Honda CR-V: Driver Information Interface / Instant Fuel Economy and AWD Torque Distribution Monitor*
Instant Fuel Economy
Shows the instant fuel economy as a bar graph in mpg or l/100 km.
AWD Torque Distribution Monitor*
* Not available on all models
The indicators on the display show the amount of torque being transferred to the right front, left front, right rear, and left rear wheels.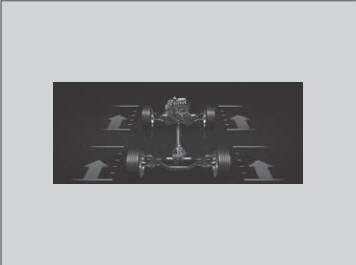 Shows the outside temperature in Fahrenheit (U.S.) or Celsius (Canada). Adjusting the outside temperature display Adjust the temperature reading up to ±5°F or ±3°C if the temperature reading seems incorrect...
* Not available on all models Shows you turn-by-turn driving directions to your destination linked with the navigation system. Refer to the Navigation System Manual...
Other information:
Continuously Variable Transmission Fluid Specified fluid: Honda HCF-2 Have a dealer check the fluid level and replace if necessary. Do not attempt to check or change the continuously variable transmission fluid yourself. NOTICE Do not mix HCF-2 with other transmission fluids...
L..
Categories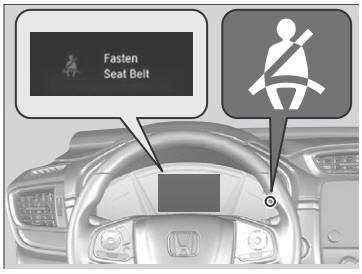 The seat belt system includes an indicator on the instrument panel to remind the driver or a front passenger or both to fasten their seat belts.
If the ignition switch is turned to ON

*1 and a seat belt is not fastened, a beeper will sound and the indicator will blink. After a few seconds, the beeper will stop and the indicator will come on and remain illuminated until the seat belt is fastened.