Honda CR-V: Audio System Basic Operation / Wi-Fi Connection
You can connect the Display Audio to the Internet using Wi-Fi and browse websites or use online services on the audio/information screen. If your phone has wireless hotspot capabilities, the system can be tethered to the phone. Use the following steps to setup.
Select .
Select Settings.
Select Bluetooth / Wi-Fi.
Select the Wi-Fi tab.
Select Wi-Fi On/Off Status, select Next, then On.
Select Yes.

Select Wi-Fi Device List.

Make sure your phone's Wi-Fi setting is in access point (tethering) mode.
Select the phone you want to connect to the system.
If you do not find the phone you want to connect in the list, select Scan.

Select Add.

If needed, enter a password for your phone and select Done.
When the connection is successful, the icon is displayed on the top of the screen.

Select to go back to the home screen.
You cannot go through the setting procedure while a vehicle is moving. Park in a safe place to set the audio system in Wi-Fi mode.
Some cell phone carriers charge for tethering and smartphone data use. Check your phone's data subscription package.
Check your phone manual to find out if the phone has Wi-Fi connectivity.
You can confirm whether Wi-Fi connection is on or off with the

icon on the Wi-Fi Device List screen. Network speed will not be displayed on this screen.
Wi-Fi mode (after the initial setting has been made)
Make sure your phone's Wi-Fi setting is in access point (tethering) mode.
iPhone users
You may need to go through an initial setup for Wi- Fi connection again after you boot your phone.
Categories
Press the master door lock switch in as shown to lock or unlock all doors and the tailgate.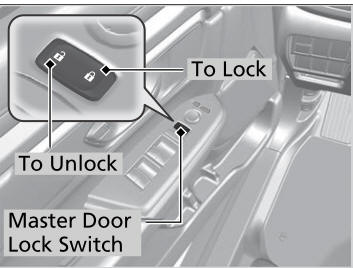 When you lock/unlock the driver's door using the master door lock switch, all the other doors and the tailgate lock/unlock at the same time.