Honda CR-V: Features / Audio System Basic Operation
Models with color audio system
To use the audio system, the ignition switch must be in ACCESSORY

or ON

.
Use the selector knob or MENU/CLOCK button to access some audio functions.
Press

to switch between the normal and extended display for some functions.
Selector knob: Rotate left or right to scroll through the available choices. Press

to set your selection.
MENU/CLOCK button: Press to select any mode.
The available modes include wallpaper, display, clock, language setup, and play modes. Play mode choices include scan, random, repeat, and so on.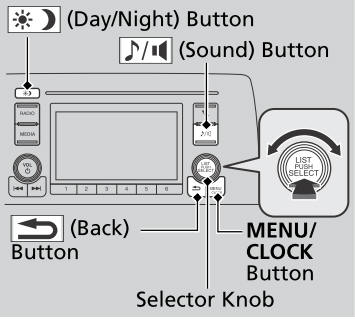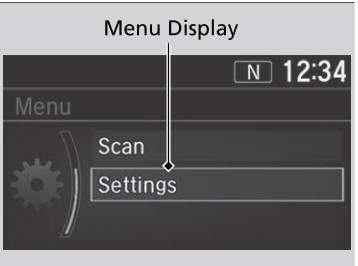 (Back) button: Press to go back to the previous display.

(Sound) button: Press to select the sound setting mode.

(Day/Night) button: Press to change the audio/information screen brightness.
Press the

button, then adjust the brightness using

.
Each time you press the button, the mode switches between the daytime mode, nighttime mode and off mode.
These indications are used to show how to operate the selector knob.
Rotate

to select.
Press

to enter.
Press the button on the steering wheel to change any audio setting.
Allow you to operate the audio system while driving. The information is shown on the driver information interface. Buttons Press or to cycle through the audio mode as follows: Models with color audio system FM1→FM2→AM→USB/iPod→Pandora®→Bluetooth® Audio Models with Display Audio FM→AM→SiriusXM®* →USB→iPod→Bluetooth® Audio→Pandora®* →Apps *→Audio Apps * * Not available on all models Models with Display Audio ENTER Button When listening to the radio and SiriusXM®** Not available on all models From the audio screen in the driver information interface, press ENTER to switch the display to a preset list you stored in the preset buttons...
Other information:
Each radio frequency device installed in the vehicle conforms to the requirements and standards of the regulation listed below: As required by the FCC: This device complies with Part 15 of the FCC rules. Operation is subject to the following two conditions: (1) This device may not cause harmful interference, and (2) this device must accept any interference received, including interference that may cause undesired operation...
Checking Wiper Blades If the wiper blade rubber has deteriorated, it will leave streaks and the hard surfaces of the blade may scratch the window glass. Changing the Front Wiper Blade Rubber Lift the driver side wiper arm first, then the passenger side...