Honda CR-V: Playing a USB Flash Drive / How to Select a File from the Music Search List
Select MENU and select Music Search.
Select a folder.
Select a track.
Use the recommended USB flash drives.
WMA files protected by digital rights management (DRM) cannot be played.
The audio system displays Unplayable File, then skips to the next file.
If there is a problem, you may see an error message on the audio/information screen.
Categories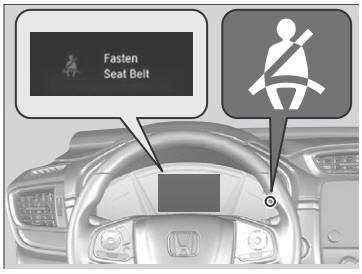 The seat belt system includes an indicator on the instrument panel to remind the driver or a front passenger or both to fasten their seat belts.
If the ignition switch is turned to ON

*1 and a seat belt is not fastened, a beeper will sound and the indicator will blink. After a few seconds, the beeper will stop and the indicator will come on and remain illuminated until the seat belt is fastened.
Copyright © 2023 www.hocrv.com