Honda CR-V: Light Switches / Manual Operation
Rotating the light switch turns the lights on and off, regardless of the power mode setting or position of the ignition switch.
High beams
Push the lever forward until you hear a click.
Low beams
When in high beams, pull the lever back to return to low beams.
Flashing the high beams
Pull the lever back, and release it.
Canadian models
Lights off
Turn the lever to OFF either when:
The transmission is in .
The parking brake is applied.
To turn the lights on again, turn the lever to OFF to cancel the lights off mode. Even if you do not cancel the lights off mode, the lights come on automatically when:
The transmission is taken out of and the parking brake is released.
The vehicle starts to move.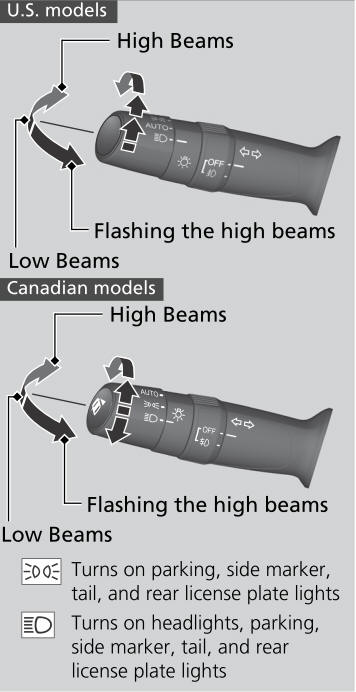 Models without smart entry system
If you remove the key from the ignition switch with the lights on, a light on reminder chime sounds when you open the driver's door.
Models with smart entry system
If you leave the power mode in VEHICLE OFF (LOCK) while the lights are on, a chime sounds when the driver's door is opened.
All models
When the lights are on, the lights on indicator in the instrument panel will be on.
Do not leave the lights on when the engine is off because it will cause the battery to discharge.
If you sense that the level of the headlights is abnormal, have the vehicle inspected by a dealer.
Automatic lighting control can be used when the ignition switch is in ON *1 . *1: Models with the smart entry system have an ENGINE START/STOP button instead of an ignition switch...
Other information:
Instead of directly measuring the pressure in each tire, the TPMS on this vehicle monitors and compares the rolling radius and rotational characteristics of each wheel and tire while you are driving to determine if one or more tires are significantly under-inflated...
To turn on or off the text/e-mail message function Go to the Phone Settings screen. Select the Text/Email tab, then Enable Text/Email. Select Next. A pop-up menu appears on the screen. Select On or Off. To use the text/e-mail message function, it may be necessary to set up on your phone...