Honda CR-V: Starting the Engine / Remote Engine Start with Vehicle Feedback*
* Not available on all models
You can remotely start the engine using the

button on the smart entry remote.
WARNING
Carbon monoxide gas is toxic and can rapidly accumulate in closed or even partly enclosed areas.
Breathing it can cause unconsciousness and even kill you.
Never use the remote engine starter with the vehicle parked in a garage or other areas with limited ventilation.
The remote engine start may violate local laws. Before using the remote engine start, check your local laws.
If there are buildings and obstacles between your vehicle and the remote, the range will be reduced. The range may be less when the vehicle is running. This distance may vary by external electrical interference.
The engine may not start by the remote engine start if:
You have disabled a remote engine start setting using the audio/information screen * .
The power mode is not in VEHICLE OFF (LOCK).
The gear is in a position other than .
The hood is open, or any door or the tailgate is unlocked.
You have already used the remote twice to start the engine.
Another registered smart entry remote is in the vehicle.
There is an antenna failure.
The door is unlocked with the built-in key.
The engine oil pressure is low.
The engine coolant temperature is extremely high.
The security system alarm is not set.
* Not available on all models
While the engine is running, the vehicle will automatically precondition inside the vehicle.
When it is warm outside:
The air conditioning is activated in recirculation mode.
When it is cold outside:
The defroster is activated at a moderately warm temperature.
The rear defogger and door mirror heaters * are activated.
The seat and heated steering wheel are activated *
To start the engine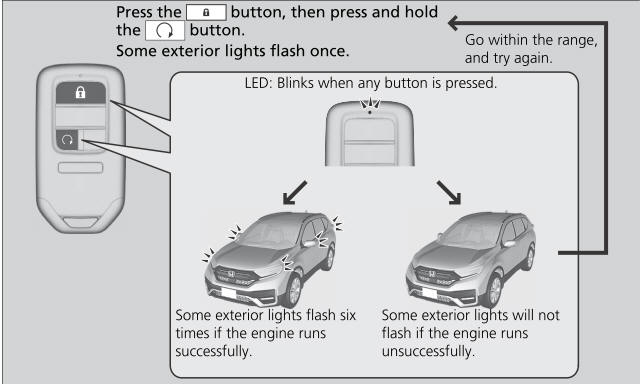 When started remotely, the engine automatically shuts off after 10 minutes of idling and/or the brake pedal and ENGINE START/STOP button have not been pressed simultaneously.
To extend the run time for another 10 minutes during the first run, press the

button, then press and hold the

button.
Some exterior lights flash six times if a 10-minute extension request was transmitted successfully.
To stop the engine