Honda CR-V: Interior Lights/Interior Convenience Items / Rear Cargo Cover*
* Not available on all models
The rear cargo cover can be used to conceal items in the cargo area and protect them from direct sunlight.
To extend:
Slightly lift up on the handle at the center edge of the cover to unhook each end, then pull the cover rearward and clip the mounting rods in the hooks at both sides of the tailgate opening.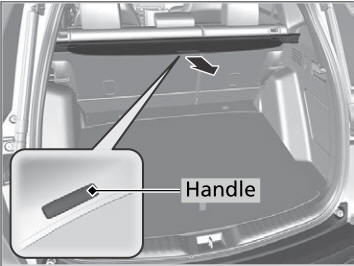 To retract:
Slip the rods out of the hooks, then slowly roll it back until it is completely retracted.
To remove:
Push either end of the housing inward, then lift it out of its position.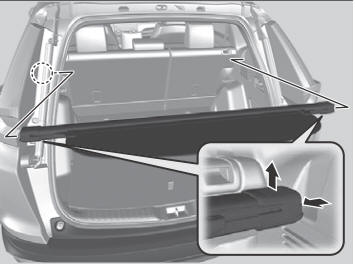 Do not let anyone access items in the cargo area while driving. Loose items can cause injury if you have to brake hard.
Do not stack objects higher than the top of the seat in the cargo area. They could block your view and be thrown about the vehicle during a sudden stop.
To prevent rear cargo cover damage:
Do not place items on the rear cargo cover.
Do not put weight on the rear cargo cover.
Be sure that each mounting rod sets in its respective retention groove when you retract the rear cargo cover. If they are not set in the grooves, the rods may rattle as they contact the surrounding surfaces.
*: Canadian models only, if equipped There is no heater in the rear center seating position. Press the seat heater button: Once - The HI setting (three indicators on) Twice - The MID setting (two indicators on) Three times - The LO setting (one indicator on) Four times - The OFF setting (no indicators on) The rear seat heaters is turned off every time you start the engine, even if you turned it on the last time you drove the vehicle...
Other information:
Reasons for the indicator to come on Comes on when the battery is not being charged. What to do when the indicator comes on Turn off the climate control system, rear defogger, and other electrical systems. Immediately contact a dealer for repairs. If you need to stop temporarily, do not turn off the engine...
A USB flash drive of 256 MB or higher is recommended. Some digital audio players may not be compatible. Some USB flash drives (e.g., a device with security lockout) may not work. Some software files may not allow for audio play or text data display...
Categories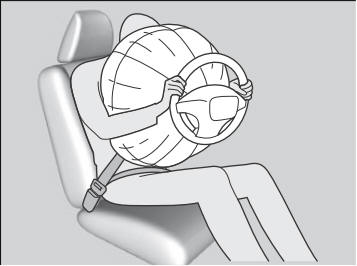 While your seat belt restrains your torso, the front airbag provides supplemental protection for your head and chest.
The front airbags deflate immediately so that they won't interfere with the driver's visibility or the ability to steer or operate other controls.