Honda CR-V: Locking/Unlocking the Doors from the Inside / Using the Lock Tab
Locking a door
Push the lock tab forward.
Unlocking a door
Pull the lock tab rearward.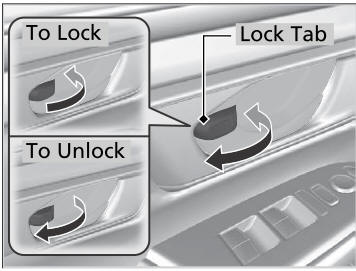 When you lock the door using the lock tab on the driver's door, all of the other doors and tailgate lock at the same time.
When you unlock the door using the lock tab on the driver's door, only the driver's door will unlock.
Pull the front door inner handle. The door unlocks and opens in one motion. Unlocking and opening the driver's door from the inner handle unlocks all the other doors...
Other information:
Auto Idle Stop Function To improve fuel economy, the engine stops and then restarts as detailed below. When Auto Idle Stop is on, the Auto Idle Stop indicator (green) comes on. Eco Assist® System Safe Driving Instrument Panel Controls Clock Models with color audio system Press and hold the MENU/CLOCK button...
* Not available on all models The power mode must be in ON to use the seat heaters. Press the seat heater button: Once - The HI setting (three indicators on) Twice - The MID setting (two indicators on) Three times - The LO setting (one indicator on) Four times - The OFF setting (no indicators on) When the power mode is turn on after it is turned off, the previous setting of seat heaters is maintained...
Categories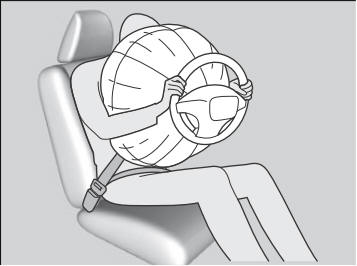 While your seat belt restrains your torso, the front airbag provides supplemental protection for your head and chest.
The front airbags deflate immediately so that they won't interfere with the driver's visibility or the ability to steer or operate other controls.