Honda CR-V: Lane Keeping Assist System (LKAS) / When the System can be Used
The system can be used when the following conditions are met.
The lane in which you are driving has detectable lane markers on both sides, and your vehicle is in the center of the lane.
The vehicle speed is between about 45 and 90 mph (72 and 145 km/h).
You are driving on a straight or slightly curved road.
The turn signals are off.
The brake pedal is not depressed.
The wipers are not in continuous operation.
If the vehicle drifts toward either left or right lane line due to the system applying torque, turn off the LKAS and have your vehicle checked by a dealer.
How to activate the system
Press the MAIN button.

The LKAS is on in the driver information interface.
The system is ready to use.

Press the LKAS button.

Lane outlines appear on the driver information interface.
The system is activated.

Keep your vehicle near the center of the lane while driving.

The dotted outer lines change to solid ones once the system starts operating after detecting the left and right lane markings.
The LKAS temporarily deactivates when it fails to detect lane lines. When the system detects the lines again, it comes back on automatically.
To cancel the LKAS: Press the MAIN or LKAS button. The LKAS is turned off every time you stop the engine, even if you turned it on the last time you drove the vehicle...
Other information:
When Automatic Phone Sync is set to On: When your phone is paired, the contents of its phonebook and call history are automatically imported to the system. Changing the Automatic Phone Sync setting Go to the Phone Settings screen. Select Automatic Phone Sync...
Inspect idle speed every 160,000 miles (256,000 km). Adjust the valves during services A, B, 1, 2, or 3 if they are noisy. U.S. models Canadian models Inspect idle speed every 256,000 km (160,000 miles). Adjust the valves during services A, 0, 9, 1, 2, or 3 if they are noisy...
Categories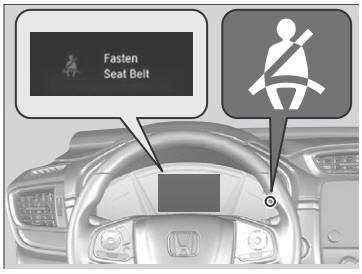 The seat belt system includes an indicator on the instrument panel to remind the driver or a front passenger or both to fasten their seat belts.
If the ignition switch is turned to ON

*1 and a seat belt is not fastened, a beeper will sound and the indicator will blink. After a few seconds, the beeper will stop and the indicator will come on and remain illuminated until the seat belt is fastened.